NEXT MATCH
Our normal monthly IDPA Match is the 4th Sunday of each month. Please arrive early between 7:30 - 8:00am for sign in. There will be an All Shooters meeting in Bay 2 at 8:30. Stage brief and walk through starts at 8:45am. The minimum round count for this match is 100 rounds.
Pre-registration is recommended at Practiscore.com/upcomingmatches
Search on PMRPC to find upcoming matches. Results will be published to PractiScore immediately after the match.
Registration is now open. Monthly matches are limited to the first 60 registered shooters and we often run full in the winter. If you register but can't make it, please notify us at IDPAdown0@gmail.com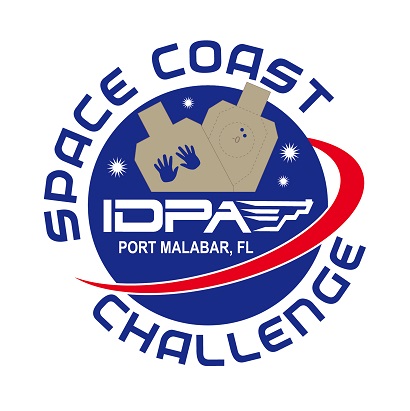 PMRPC is hosting the 2018 Space Coast Challenge IDPA Match on October 13-14 in Palm Bay, Florida. It is a Tier 2 IDPA sanctioned match, consisting of 12 Stages.
Get more information at SpaceCoastChallenge.com
RULES
The 2017.2 Rule Book has been implemented and is in effect.
Visit IDPA.com for the current version of the Rule Book, or you can download via IDPA 2017.2 Rule Book

All shooters are welcome to test the waters at a match and you will find a friendly and helpful group of shooters and safety officers to see you through your first match. Here is the link to the IDPA New Shooters Packet to get you acquainted with the procedures at the range.
NEW SHOOTERS should arrive by 08:00 for registration.
All NEW SHOOTERS must attend a safety briefing at 08:15, if new to IDPA or PMRPC.
NEW SHOOTERS should arrive at the safety briefing with unloaded gun holstered, magazine carriers in place, cover garment, and two magazines (one with two rounds and the other loaded to division capacity). Each unclassified shooter will perform a simple, supervised, three round safety exercise before heading to the bay.
Please remember that we are requiring IDPA membership to shoot the matches; however, first time shooters are welcome to give it a try before joining. You can join IDPA on their website at www.idpa.com.
ATTENTION: ALL retention style holsters that require the use of the index finger of the strong hand to release a lock prior to drawing the pistol (similar to, and including the BLACKHAWK SERPA), are BANNED from PMRPC IDPA matches.
While we don't consider new shooters 'dummies', this is a quick summary explaining the scoring system used in IDPA: Scoring for Dummies

IDPA PRACTICE
IDPA Practice sessions are held the Second Sunday of each month from 09:00 - 11:30. This is a great place to learn the basics of IDPA without the pressure of competition.
Requirements are:
- IDPA legal handgun
- Holster
- 2 magazine holders
- 3 magazines
- Concealment garment

Space is limited so send your request to attend to:
PMRPCIDPA@gmail.com for confirmation information.